Home & Business Landscape Professionals.
LET US GIVE YOU YOUR DREAM OUTDOOR SPACE.

Tree planting, flower planting, sod installation, yard cleanups,

Get the yard or patio that is more inviting than your indoors.
It's easy to maintain and professional exterior. Our team will have your outdoor spaces looking pristine.

All types of sod installed perfectly. Bermuda,
Zoysia, St. Augustine & more.
Brick, Stone, Cement, Railroad Ties, Gravity Retaining Walls.
Designed and Built by Professionals.
Yard Drainage & Erosion Control
Including silt fence construction.
Hardscaping – Patios, Decks
Nothing transforms your outdoor space like a patio, pergola or decking.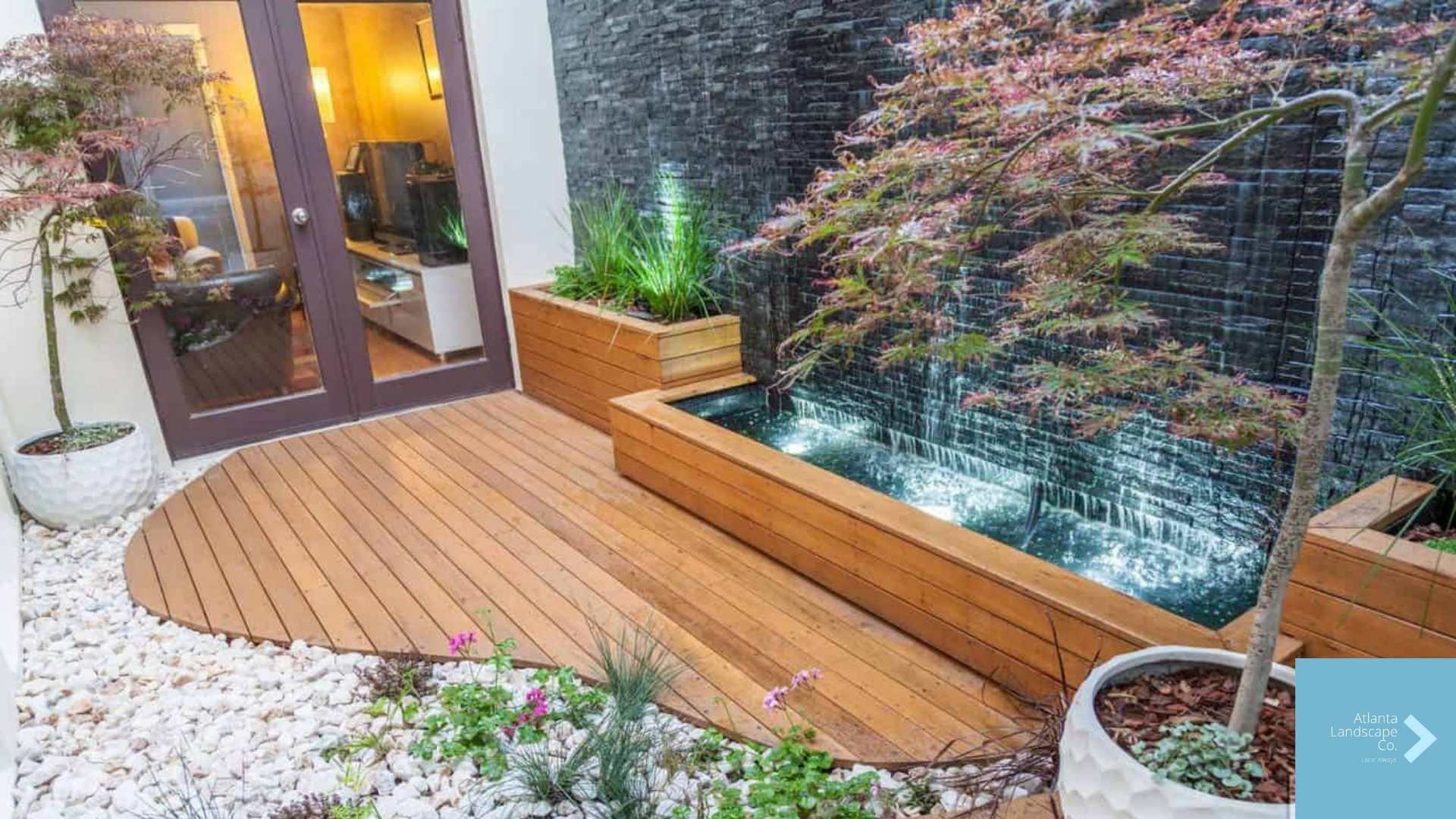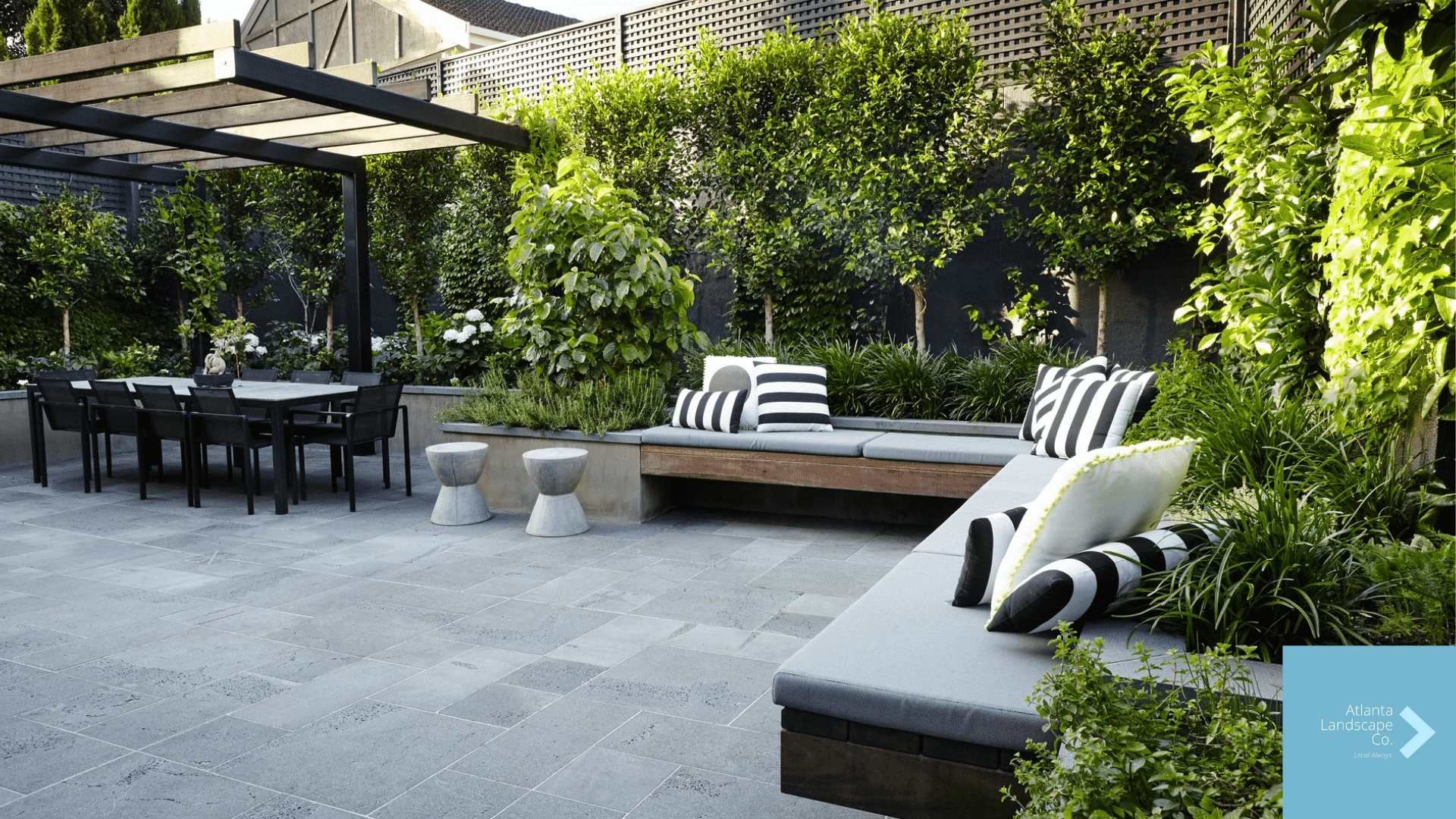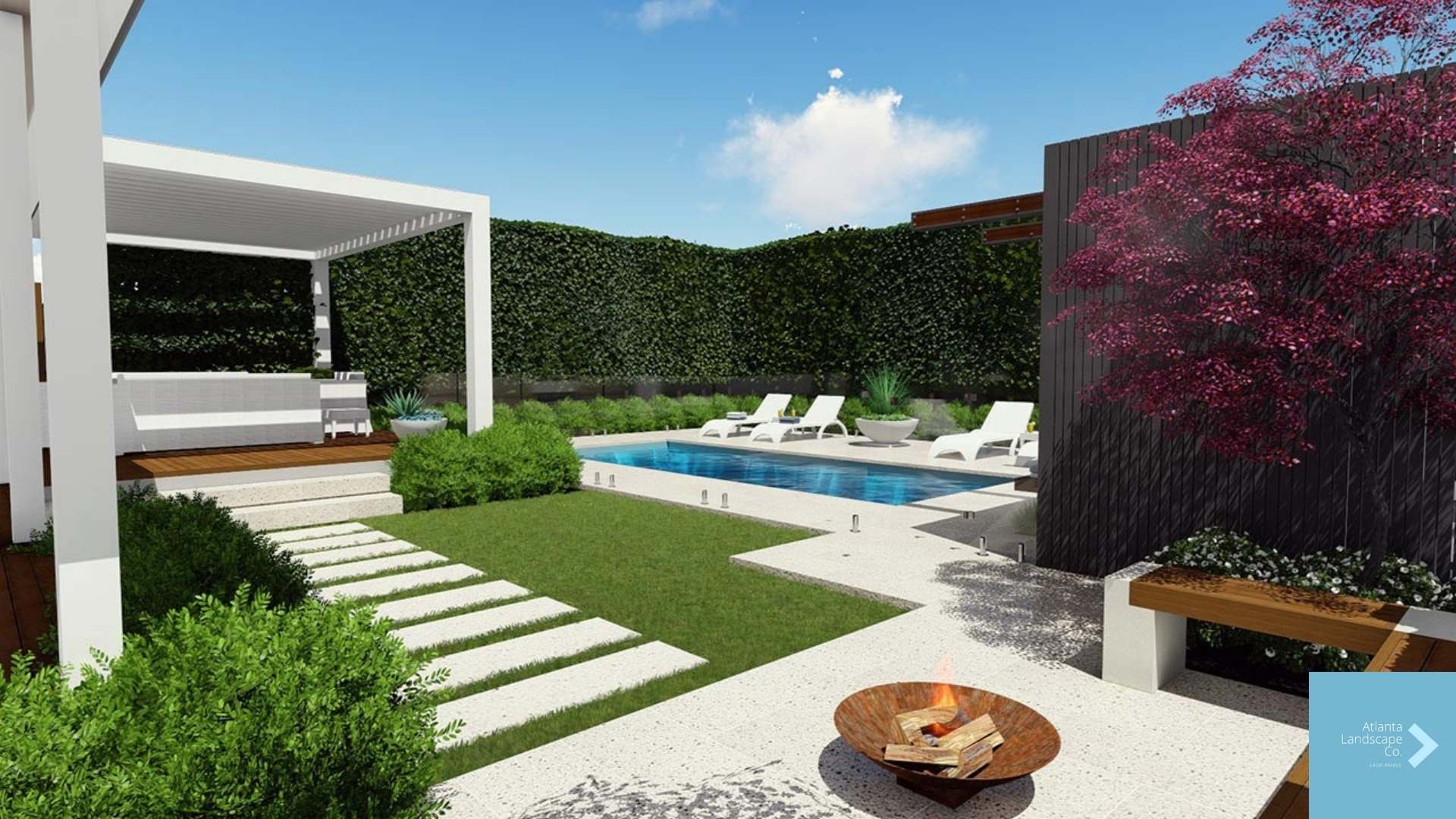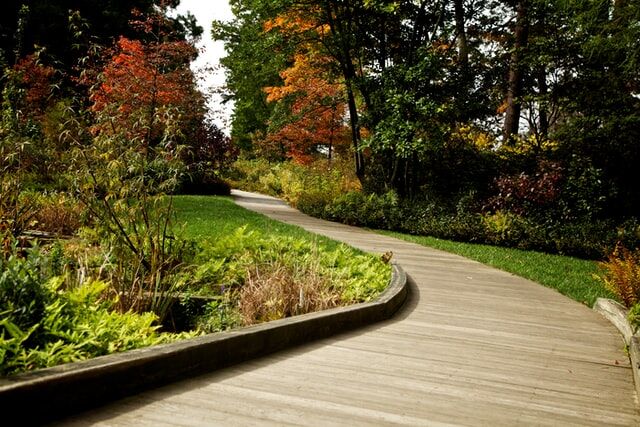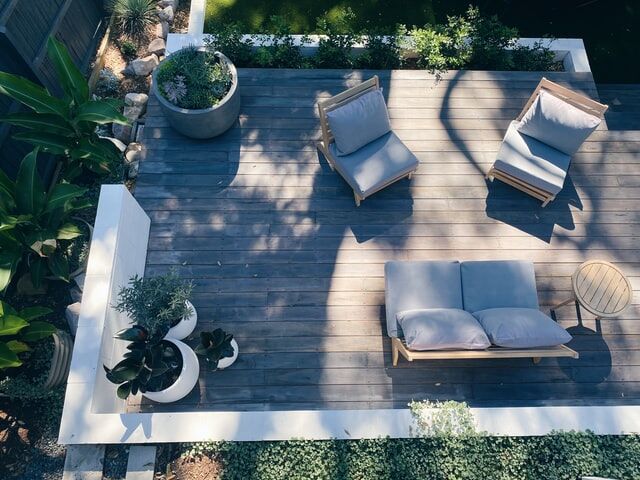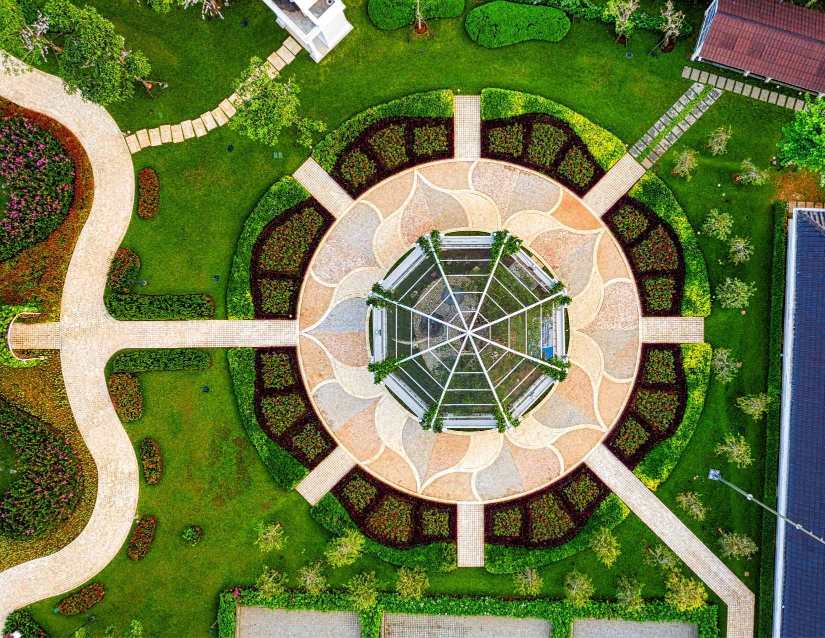 Atlanta Landscape Company
If you have no idea where to begin, Atlanta Landscape Co. is extremely easy to work with. Harold was friendly as well as especially well-mannered to make certain I had my rocks delivered in the appropriate area in front of my residence. This is a wonderful area to start your own individual landscape jobs! Basically, these individuals are the most effective in both solutions as well as price.

Beckstead Gwin
2021-07-11
After numerous failed tries to have a garden in our backyard, we contacted Atlanta Landscape Co. We met to discuss how we wanted to use the space, and they designed a wonderful plan. They also recommended a masonry contractor, who did a great job, and we are doing the planting based on their suggestions. They are perfect to work with and really responsive. By this time, the space looks amazing!

Atlanta Landscape Co. was the only landscaping company which quickly returned my call. They were so good in all aspects- customer service, responsiveness, professionalism, and immediate action. Kudos to them for their excellent work! I will recommend them to my colleagues.

They exceeded my expectations and are definitely one of the best Atlanta landscaping companies I've hired. I was on the hunt for a new landscaping company because I desperately needed help with lawn care. I wanted someone who I could rely on and who could come around regularly without me needing to be home. Eventually we also had them do some backyard renovations (we added a pool!). These guys gave me a great quote and our backyard is looking great. Their ongoing lawn treatment continues to look great - all of the weeds and mosquitoes are gone. Highly recommend y'all.

Summer Anderson
2020-05-27
Do you wish you loved your outdoor spaces more?
Wish your backyard was the envy of all your friends?
Want to spend more time doing things you love and less on lawn maintenance?
Get the outdoor space you've always wanted

Professional landscaping inspiration you need
Lawn maintenance you can forget about

Save time and money

Leave the ongoing maintenance to us

Rest easy with our sustainability practices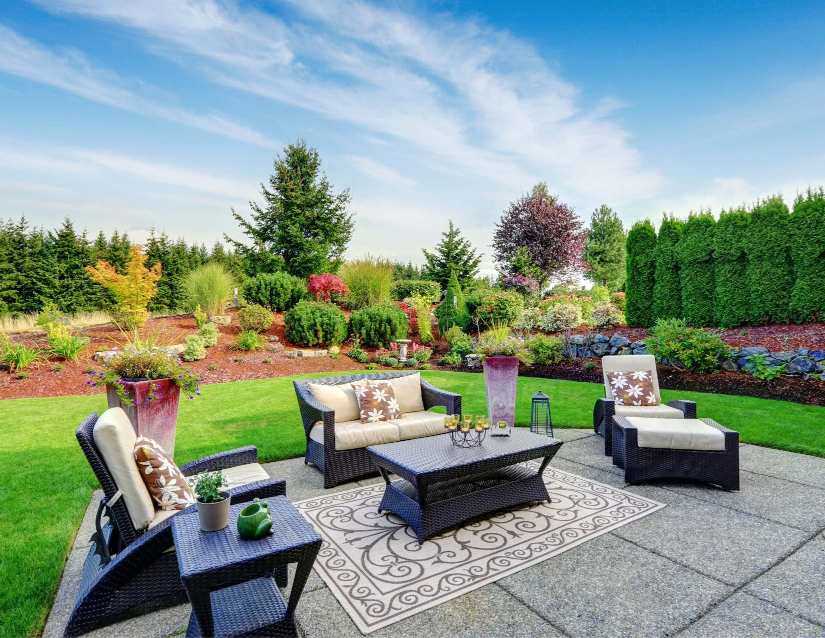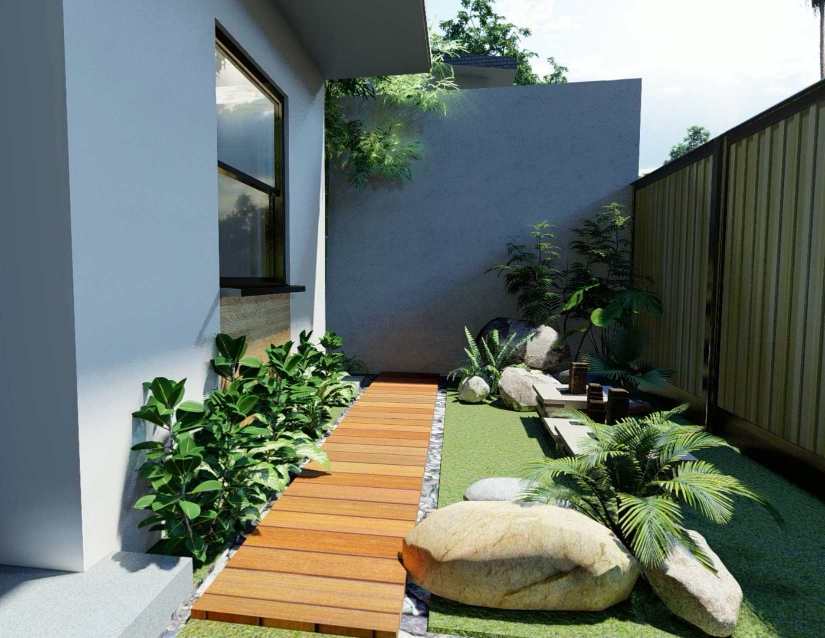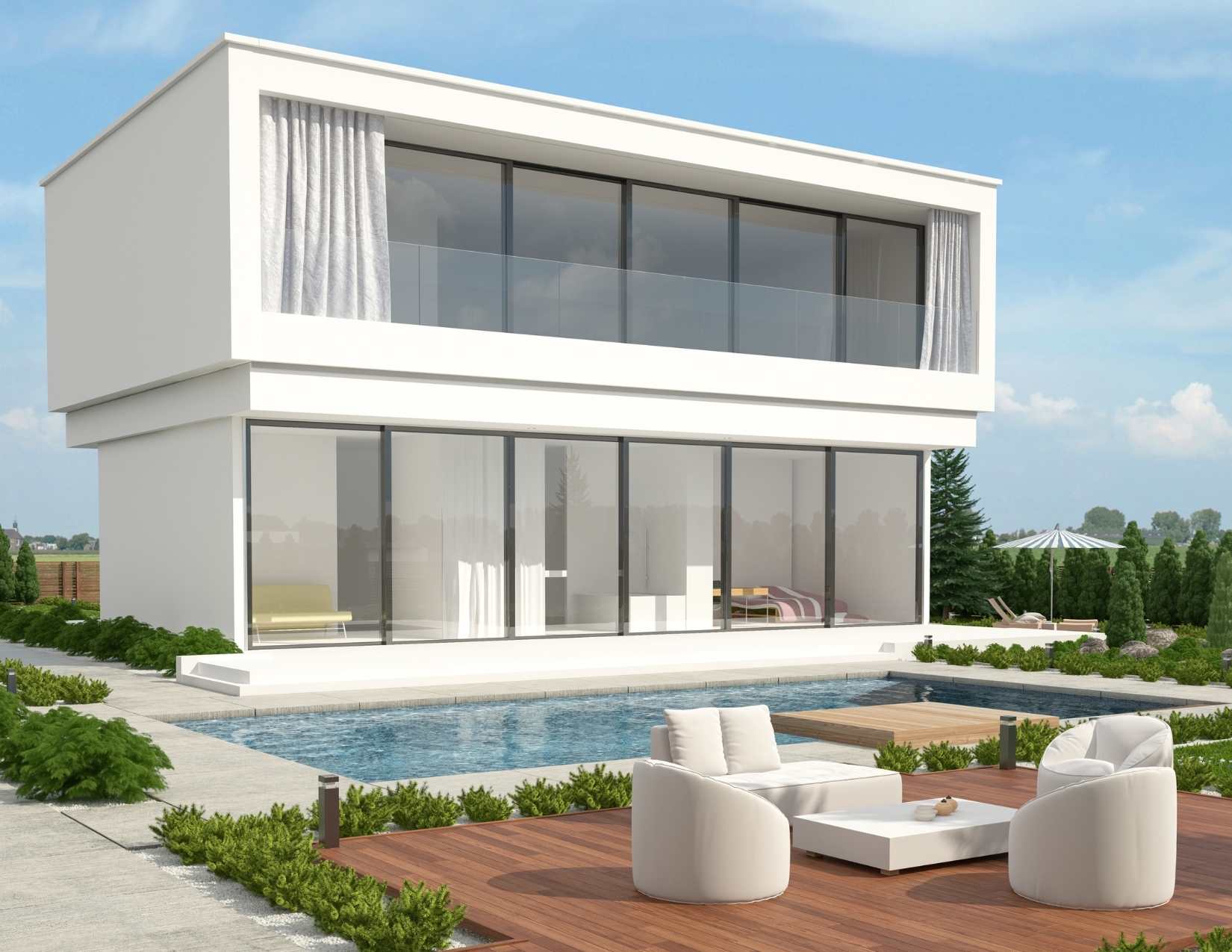 Results Focused On Understanding Our Clients
The outdoor areas are one of the home's most important features. Whether you're hosting a barbecue or simply looking for a quiet place to relax and unwind, we are the local landscaping company that get you the lawn and outdoor areas the oasis you deserve.
Our landscape contractors and architects have years of experience providing superb service to homeowners all over Atlanta with a special focus on servicing Sandy Springs, Buckhead, Fulton County, Cobb County and Morgan County.

Or if you need a regular lawn maintenance service that you can rely on like clockwork to maintain your lawn and outdoor spaces and keep them looking their very best.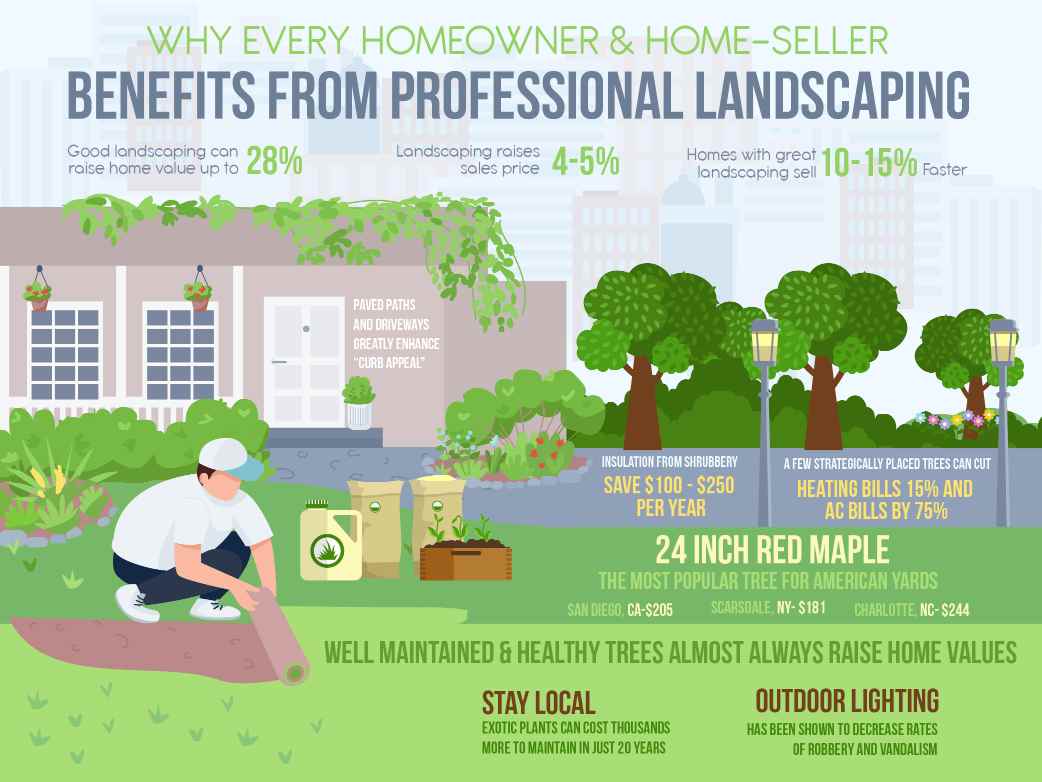 Having great and distinctive branding for your business is vital for any business that wants to differentiate itself and carve out a position in a market. This is especially true if you have a store or office space. Your office, the decor and especially your landscaping should reinforce the vibe and look that your business is trying to project to your customers.

We at Atlanta Landscape Company understand the importance of this and are experts are extending your brand through your commercial landscaping needs. From your huge lawns with manicured edges to tight spaces, our expert landscapers will be the one to beautify and liven up the atmosphere of your office, business park or otherwise.
Being experts in commercial landscaping for more than ten years, we have served hundreds of business and commercial establishments across Atlanta. Trust us to take charge of doing your landscape maintenance, irrigation, drainage, and more.
Let us transform your commercial landscape space, be it large or small, into an area that reflects your business culture, ideas, and beliefs. Call us to learn more about our awesome COMMERCIAL LANDSCAPING SERVICES.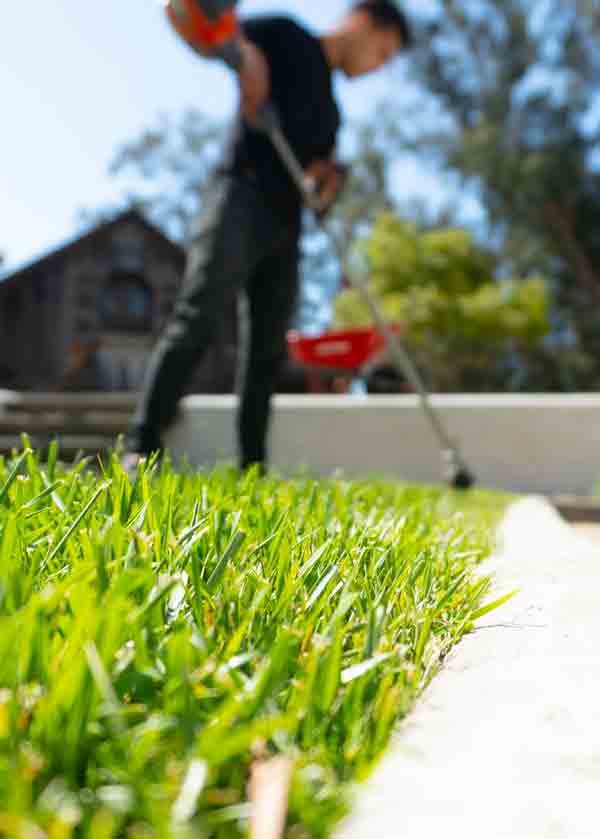 Non-Obvious Benefits of Landscaping

It's common knowledge that being around plants and greenery can be beneficial to our overall health and well-being. If you are thinking that you can only achieve this if you go out to the park or go trekking in the forest, then maybe it is time to think otherwise.
We at Atlanta Landscape Company are experts at creating outdoor environments that will revitalize you and your family. From simple but beautiful residential landscaping to the more intricate commercial space landscaping, we have your needs covered.
Research has shown that landscaping promotes a happier mindset. It gives you and your fellow occupants a healthy, eco-friendly, and a serene space to be one with the environment.
Improve your mood by with well-designed and beautiful landscaping and enjoy the relaxing and calming vibe that it brings. Click HERE to know more information about the other NON-OBVIOUS BENEFITS OF LANDSCAPING.
"We can't thank you enough for how awesome our yard looks. The quality of the work and professionalism was just outstanding. You guys are such an easy team to work with and always so understanding of our suggestions and landscaping ideas. We'll definitely be calling again when our next project pops up. "
– JOHN AND CAROL PICKFORD, SANDY SPRINGS, GA
Patios /

Hardscaping

Retaining Walls

Sod Installation

Landscape Design & Build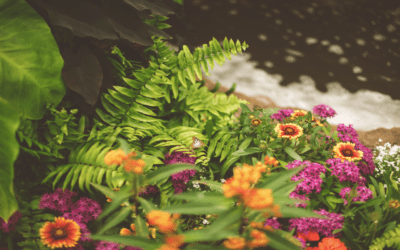 THE TOP 10 LANDSCAPING COMPANIES IN ATLANTA, GEORGIA (REVIEWS/RATINGS) For many years...
Bonding with family and friends is one of the most cherished activities for anyone. Nothing beats having a good laugh with the guys or experiencing the warmth of your loved ones.
You can also make these gatherings more special when you do it on your beautifully hardscaped outdoor areas.
You can have a fully equipped outdoor kitchen with access to several grills, bars, and countertops. Small areas near an arbor or on a patio can be good locations for a barbecue grill.
And fire pits can also provide areas for your guests to enjoy your company and a drink or two at the fireside.
Have those unforgettable gatherings right in the heart of your home's landscaped outdoor areas.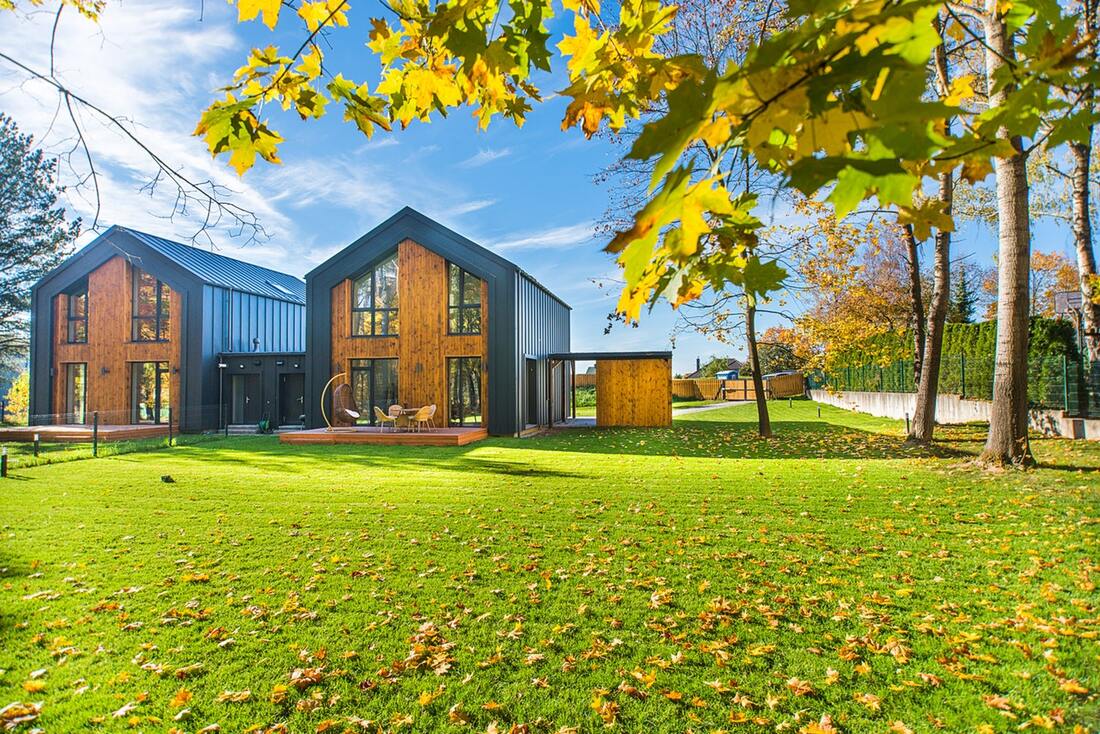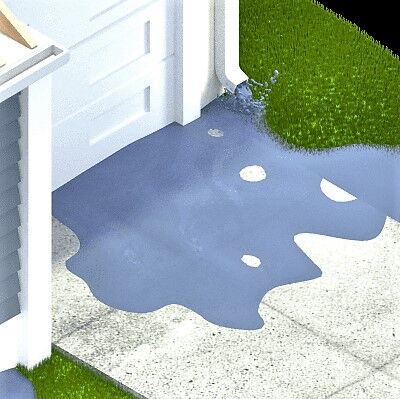 Grading & Drainage

Plants in your landscaped area prefer soils that do not allow water to stand. That is why a good grading and drainage is important for any landscaped set-up.
When in Atlanta, you can always rely on Atlanta Landscape Company to provide you with quality landscaping offers and services. Our professional landscapers will create slopes in your lawn or space's that can direct water away from your home's foundation and redirect it.
We will create a drainage system that creates an ideal growing environment for your plants and greenery.
Pergolas & Gazebos

An additional shady area in your lovely landscaped area is always a welcome addition. You and your family or guests can fully enjoy the different greenery and fauna that is artfully arranged around your landscaped lawn.
Gazebos and Pergolas provide you the shade that will make spending any time outside worthwhile. A pergola is a structure that uses slats for a roof that allows the sunlight to fill the area. On the other hand, a gazebo has a solid roof, walls, and seating in an outdoor living space.
These two outdoor structures provide a center of activity and an environment that is suitable for getting together with your family and friends.
Check out more info on the different designs of PERGOLAS and GAZEBOS that we offer.
Sod Installation Service Atlanta

Our installation team has been installing grasses professionally for almost 20 years. We know the most efficient methods of sod installation and are able to create aesthetically pleasing lawns in Atlanta, GA. Our expertise ensures you're always getting the best services available.
We offer sod installation services to property owners in Atlanta, GA. We can quickly repair your lawn or establish a new one by installing sods like zoysia, Bermuda and fescue that will thrive for the long term. Our customers are further put at ease with our warranties on these installations which ensure protection from future growth of weeds and pests as well as guaranteeing full satisfaction.
Irrigation & Sprinkler Systems

Our landscape designs are not just aesthetically beautiful they are all sustainable as well.
You will not have to worry that the greenery and plants will be well taken care of and properly watered. Plants and grasses that need huge amounts of water will get their required amount of water while less thirsty small plants can avoid the excess water.
This is due to the properly planned irrigation systems that our experts at Atlanta Landscape Company will install in your landscaped lawns and spaces. We use just the right amount of water depending on the plant species.
We will put a timer regulated underground irrigation system that will manage the varying amounts of water that your flower beds, trees, grasses, and shrubs require.
Retaining Wall Builders Atlanta
When building a new home or redesigning an old one, it's easy to overlook one of the most important aspects of your design—the retaining wall. Properly designing and building a retaining wall is critical when designing a new home, redesigning an old one, or retrofitting a structure. It can even be a key factor in determining the success of a new construction project.
Using the right retaining wall builder can ensure that the features you are designing are properly built and designed for the intended purpose. However, with so many retaining wall builders in the Atlanta area, it can be a challenge to find the right one.
That's why we're here. We are consistently one of the most sought after retaining wall builders in the Atlanta.
WE'RE COMMITTED TO MAKING YOUR OUTDOOR SPACE BEAUTIFUL.
A unwavering focus on making our customer happy is an obsession. It's in our DNA.
From the very first day a new team member joins Atlanta Landscaping Co., they are taught our customer first attitude, and we continue to teach it until it is ingrained in each and everyone of our staff.
When you work with us, rest assured you're working with a local company that has your landscaping interests at heart.
FERTILIZATION PROGRAMS
The proper application of fertilizers to your greenery and flowers is essential for them to be healthy and blooming. Fertilizers should ideally be sprayed on your landscape flora for 4 times a year to provide them with the nutrients and vitamins that your landscape plants require.
The right mix of the right fertilization program and adequate watering creates the key to making your landscaped yard a sight to behold. The roots of grasses, shrubs, flowers, and trees need the right amount of nutrients to produce a healthy landscaped system.
Atlanta's most trusted landscaper, Atlanta Landscape Company, will expertly fertilize your landscaped space to make it bloom with beauty.
SAFE & GREEN CHEMICAL USE
Atlanta Landscape Company's easy to use and safe landscape chemical programs and applications can provide a boost during any season of the year.
We can protect your landscape through products that can deter stubborn weeds and eradicate pesky insects. Eliminating these problems can greatly help in preventing damage to your landscaped area's grass and shrubs.
This type of preventive maintenance is ideally applied on a monthly or quarterly basis to help you ensure the healthy and vibrant growth of your landscape plants and greenery.
The process of Aeration helps in improving the health of lawns and other flat landscaped areas, This method is done by systematically punching holes in the ground. By doing this it removes plugs of soil and reveals a path for the air, water, and nutrients to enter the soil and reach the roots of the plants in the area.
Aeration also reverses the effects of compaction which the soil gets due to daily traffic it gets from people walking and lawn tractors moving on it. Compaction can be deadly to your landscaped area because it inhibits root growth.
Good thing we at Atlanta Landscape Company offer quality Aeration services just for you.
TOP DRESSING
Aside from Aeration, one more method of taking care of your landscaped lawn is through Topdressing.
Topdressing is the process of putting a thin layer of compost and soil that delivers needed nutrients to the lawn and improves its underlying soil. Topdressing is usually combined with Aeration to allow nutrients and microbes to easily penetrate the soil and reach the nearby plant roots.
This process also makes the enrichment of the roots faster and more efficient. Atlanta Landscaping Company looks forward to the opportunity to be of service to you.
LIGHTING FIXTURES
One more unique way our expert landscapers at Atlanta Landscaping Company can make your landscaped areas look awesome is through lighting.
By adding lighting fixtures, your lawn or area will now have an awesome, gorgeous twist, This will further accentuate your already beautifully designed landscaping.
Click HERE to get more information on the various Outdoor Lighting lighting fixtures that we provide to elevate your landscaping to the next level.
About Atlanta, GA
Atlanta is Georgia's capital and most populated city. According to the 2020 U.S. census, it is the eighth-most populated city in the Southeast and the 38th most populous city in the United States, with a population of 498,715 residents. However, it is the cultural and economic hub of the much larger Atlanta metropolitan region, which has a population of 6,144,050 people, making it the United States' eighth-largest metropolitan area. It is the county seat of Fulton County, Georgia's most populous county. It is located in the Appalachian Mountains' foothills at a height of just over 1,000 feet (300 meters) above sea level, and it has a distinctive landscape that includes rolling hills, rich foliage, and the most beautiful waterfalls. Atlanta began as the terminal of a major state-sponsored railroad, but it quickly evolved into a crossroads for multiple railroads, fueling its fast growth. The Western and Atlantic Railroad, from which the name "Atlanta" is derived, signified the city's rising reputation as a major transportation hub.[13] It served a strategically vital role for the Confederacy during the American Civil War until it was captured in 1864. During General William T. Sherman's March to the Sea, the city was nearly completely destroyed by fire. However, in the postwar years, the city soon recovered and became a national industrial center and the unofficial capital of the "New South." It also became a manufacturing and distribution center after WWII.
Atlanta Landscape Co.
725 Dalrymple Rd, #4FAtlanta, GA 30328
United States
470-594-3793